International Antiques Fair opening night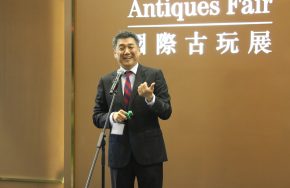 This was the first year that the International Antiques Fair in Hong Kong started with a charity buffet. And what a succes it was, collectors were out in force and enjoyed the food and wide array of high quality antiques.
William Chak, founder of the International Art Fair and director of Chak's Company Limited, the famous antiques dealership on Hollywood Road in Hong Kong. He did the opening speech in three languages!!
Christian Deydier, advisor of the International Antiques Fair who came with some of his famous French colleagues to make the fair even more international.
Christian Deydier brought as usual an array of fantastic early pieces of Chinese Art.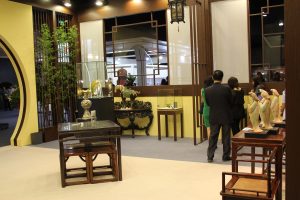 Part of the elegant stand of Chak's Company.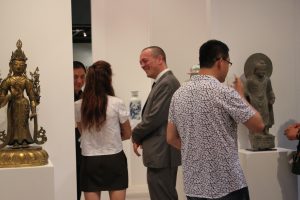 Antoine Barrere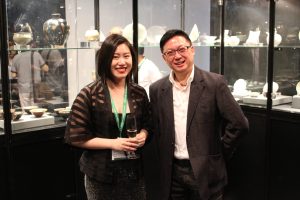 Jacky Leung of My Gallery with his assiastant Scarlett Poon and part of his collection of early Chinese ceramics in the background.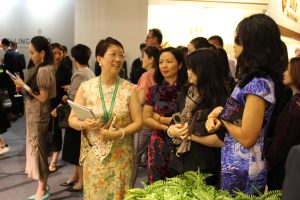 Priscilla Lau, William Chak's wonderful wife.
The large sculpture of Tang Ying (1682 – 1752), the man who was undoubtedly the most innovative and talented presence in China's porcelain industry during the Qing Dynasty.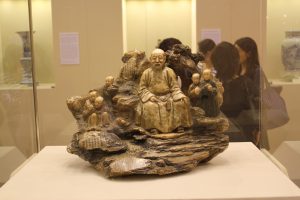 The stunning soapstone sculpture portraying Tang Ying
View into one of the stands at the fair.
Robert Chang and Christian Deydier
Cédric Curien of Art Asiatique Sarl
Mark Slaats of Littleton & Hennessy
Carlos Prata of Hanlin Gallery
Famous collector Chris Hall at Fleurdelys
Floris van der Ven
Joyce of Joyce Gallery in Hong Kong
Rosanne Chan of CA Book Design, publishers of many of the best books on Asian Art
Robin Markbreiter, publisher of Arts of Asia Magazine and Franny Pranger
Back