A conversation with Andrew Lau – Hollywood Galleries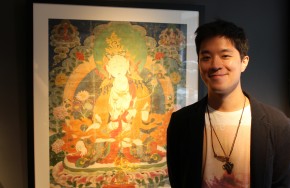 Andrew Lau is the 30-year-old son of Hon Lau and his wife Ellen Ho, the owners of Hollywood Galleries in Sheung Wan. They are specialized in Buddhist sculptures, paintings and religious works of art with origins from the Himalayas, India, China, and Southeast Asia spanning from 12th to 19th century. With his knowledge and lifetime of involvement in the world of art, Andrew Lau is an important person for the next generation gallery owners in Hong Kong.
You studied design and art history, but when did your passion for art really start?
As a child I grew up in the art gallery of my parents, but my dream always was to become a rocket scientist. However, I have never been too good with the related subjects of it. I found out that I was better in art related subjects, such as drawing and painting. The better I got, and the higher grades I earned, the more my interest developed itself. That is when I gave up my dream of being a scientist and decided to study art.
Can you still remember what kind of art inspired you at first?
When I was younger, I was not that good in expressing myself socially. It was my mom, or brother who came with the idea to express myself through drawings. Ever since, I have liked drawings the most.
Since when have you been helping out in the gallery?
I have always been around the gallery, but I have not been actually working there until after university. It was 1 week after my graduation that my dad called and said I had to fly in for a fair in China. I have not left the gallery anymore after I came back to Hong Kong, and I never thought about looking for another job.
So what are your main tasks right now?
My working days in the gallery are from Monday to Saturday. The main activity for me is hunting, which is mostly done online or by visiting different auctions. I contact private collectors to see if they are interested to buy and sell. Right now I am also busy with developing a new website for the gallery. I am responsible for the photography for the website, as well as for the catalogue which I design myself. When something is sold I clean, pack and send the art. Besides that I am always present during fairs, exhibitions, and auctions and help with planning such as discussing what we make available for sale. We are always with the three of us in the gallery. Sometimes when it is very busy or during fairs we ask for someone to help us. These are usually relatives of ours.


You just said you hunt by visiting different auctions. Where do you mainly go?
Two weeks ago I went to Paris to attend the auctions. However, I unfortunately got sick and had to come back to Hong Kong earlier than planned. Normally I visit around 10 auctions outside of Hong Kong a year. First I will go and take a look before the day of sales start. Usually they have more than one auction going on, so I make sure I do not miss anything. If there is enough time, I always visit other dealer shops before going back to Hong Kong. I also visit auctions to have a look at who is buying to get an insight in the market and see the new faces in the field. The auctions in Paris, New York, London are always twice a year, which makes my flight schedule quite fixed. Most of the auctions I visit by myself. My parents gave me the trust regarding making purchases. However, my father joins me to the ones in New York since he has many of his connections there. Also, New York is the biggest regarding Buddhist objects.
Where are most of your clients currently based?
Our major clients are mostly in China, Europe, and North America. Sometimes I have to see them in person. Before flying to Paris two weeks ago, I also spent three days in Amsterdam to visit someone. I always like to spend around 2 extra days in the city where I meet the clients to visit museums, or antique shops.
The plan for now is that you will take over the family business. Are there any things you would change regarding the gallery?
Right now I respect the decisions of my parents and therefore some things will remain unchanged. However, sometimes we have to mix what we have with what is trending right now so we continue to fit in the market. Something I would change is the amount of art that is displayed in the shop. Right now we easily display around 50 art pieces. I would probably change the interior and lower the amount of displayed pieces. Regarding the participations in fairs I might consider joining Asia Week in New York in the future, or maybe the one in Brussels as they try to organize all the Asian antiques in the same week. Whenever they have something good, they will wait to display it in Asia Week which makes it easy to find all the better pieces and see more shops within just one week.
How do you see the future development of the art market in Hong Kong as some galleries are having a hard time surviving right now?
I think this matter is only because of the entire incorruption in Hong Kong with the new government system. However, it is going to be great and better in a bit of time. Hong Kong is one of the easiest selling places in Asia with the convenience, language, and easiness of import and export. Also, Hong Kong has its name of being more trustworthy than for example Beijing of Shanghai as people will find more fakes there. It is not like I am in love with Hong Kong for the city itself, but for business it is a good basis.
To see the displayed items of Hollywood Galleries on AsianArt.news, please follow the following link: Hollywood Galleries
Back